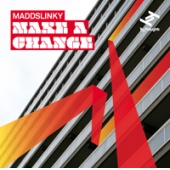 Maddslinky
Make A Change
Label: Tru Thoughts
Genre: Electronica / Ambient / Experimental
Availability
CD €4.99 Nice Price

In Stock
Dubstep pioneer Maddslinky – aka Zed Bias – is back!

Dubstep pioneer Maddslinky – aka Zed Bias – is back, and he's signed to Tru Thoughts to release his new album, 'Make A Change' on 25th October, with a stellar list of collaborators including man of the hour Skream (who cites Maddslinky'searly work as a major inspiration) plus Mr Scruff, Tawiah, Jenna G, Ghost 1, Mighty Moe, Nile Sugar, and of course Omar, who lends his world-famous vocal talents to the lead single, "Special".

The album is already in huge demand with repeated radio play of upfront tracks by tastemakers including Benji B (1Xtra), Gilles Peterson (Radio 1), Mary Anne Hobbs (Radio 1), Alex Nut (Rinse FM), and a recent interview and guest mix for Ras Kwame on Radio 1. The album track "Further Away" feat Tawiah was voted No.3 track of the year in the 2010 Gilles Peterson Worldwide Awards, despite not being out yet; and another, "Lost On Tenori St", was included in Martyn's recent 'Fabric 50' mix.

As well as lead vocals from veritable UK soul luminary Omar (who has previously worked with Stevie Wonder and Estelle among others), the "Special" single, out in September, boasts remixes by MJ Cole, Toddla T, Chimpo, At Jazz and Simbad and is already earmarked for the lead review spot in many dance music publications. The promo has gained nearly 10,000 YouTube hits in the first month.

On the same day as 'Make A Change', Tru Thoughts will also be making available Maddslinky's first album, the seminal but very underground 'Make Your Peace', which originally came out in 2003, influencing a whole array of young producers in waiting and playing a key role in the creation of dubstep. Set to bring this important record the limelight it deserves, the re-release sports new artwork and incisive sleeve notes by Martin Clark aka Blackdown, with quotes from Skream citing the album as a major influence on him.

Always moving with (or more often ahead of) the times, breaking boundaries and filling dancefloors, the man behind the Maddslinkymoniker has had a string of successes under various aliases, including Zed Bias, Phuturistix and Ruffcut Bias; his Zed Biasproductions have had particularly notable success, with support fromBBC Radio 1's Zane Lowe, Annie Mac and Pete Tong. He hit the UK Top 40 in 2000 with the single "Neighbourhood", now widely regarded as one of the all time classic UK garage tracks – so much so that with the recent resurgence in the 2-step sound in the UK club scene it was re-released last year with a remix from Roska that fully redefined its importance to a younger generation of clubbers.