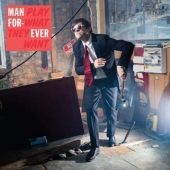 Man Forever
Play What They Want
Label: Thrill Jockey
Genre: Post Rock / Avant Rock
Availability
LP + MP3 COUPON €20.99

Dispatched within 5-10 working days
Other Formats
The music of drummer John Colpitts as Man Forever is explorative, innovative and fearless. A musician and composer equally versed in the disparate musical languages of DIY rock, improvisation, and contemporary classical, Colpitts (aka Kid Millions) has made an album that defies genre classification. Propulsive, elaborate drum arrangements (created with TIGUE Percussion) remain essential to Man Forever - on the songs of 'Play What They Want' they are augmented by voice and melody with contributions from Laurie Anderson, Yo La Tengo, and Mary Lattimore to name a few.
In his 25 year career, which has seen stints in acclaimed acts such as Oneida, Boredoms, White Hills and Spiritualized, Colpitts has honed his craft to gain a reputation as one of New York's most acclaimed percussionists. 'Play What They Want' represents the culmination of his quarter century of musical engagement. The album also features appearances by Phil Manley of Trans Am, harpist Brandee Younger, bassist Brandon Lopez, pianist Sam Yulsman, Ben Lanz (Beiruit, The National, Sufjan Stevens) and the Quince Contemporary Vocal Ensemble.
While Colpitts' previous albums have expanded on the possibilities and limitations of drums and percussion, this new album redefines the project in myriad ways. Building on a complex rhythmic foundation, Man Forever created an album that is innovative, imaginative and joyous. 'Play What They Want' is a rare record of untamed ambition that hits all its marks.
CD version in 4 panel mini-LP style gatefold package.
LP pressed on virgin vinyl housed in a spot UV gloss varnish jacket and includes a free download coupon.