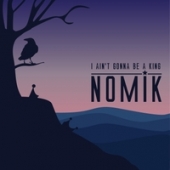 Nomik
I Ain't Gonna Be A King
Label: Enterevents
Genre: Rock / Pop
Availability
CD Digi / Cardboard €12.99

In Stock
Debut solo album by Nomik, the front man of the great Greek psych rock band Sleepin' Pillow and former front-man of Universal Trilogy.
Nomik is a singer / songwriter, based in Thessaloniki, Greece.
In his first solo effort, Nomik blends retro Greek and Eastern traditional music with contemporary alternative, progressive or even electronic rock.