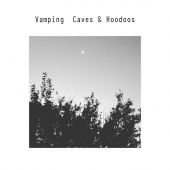 Vamping
Caves & Hoodoos
Label: Melotron Recordings
Genre: Rock / Pop
This album was written, recorded, arranged and mixed by Broderick Adams between late winter 2017 and early Spring 2018 between El Paso and Amarillo, Tx.

Broderick would like to thank Taylor and the fur babies, Kostas from Melotron, Renato from TBTCI, Zane Pacillas (aka Throbby Crispy), The Mount Ivy boys, Nick Schmitto and all the 915 and 806 family.

In loving memory of Drew Friemel.