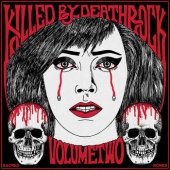 Various Artists
Killed By Deathrock Vol. 2
Label: Sacred Bones
Genre: 80s Wave / Rock / Pop / Punk
Availability
LP + MP3 COUPON €23.99

Dispatched within 5-10 working days
A swirling nightmare of reverb-drenched guitars begins UK darkwave act Veda's snarling "Whiplash," featuring Sex Gang Children member Cam Campbell. The 1987 single it comes from was Veda's one and only release. Fellow British band Skeletal Family began a prolific career in 1983. Their track "Promised Land" is a perfect showcase for guitarist Stan Greenwood's jagged style, as well as Ann Marie Hurst's powerful vocal ability. UK goth rock band Flowers for Agatha's somber "The Freedom Curse" was more than worthy of radio airplay, which sadly went unachieved. The song appeared on the band's 1985 EP of the same name.
"Dark Spirits" is a standout cut from Los Angeles deathrockers Red Temple Spirits, released by the legendary Midwestern label Fundamental. Independent Project Records later released a comprehensive anthology of the group's material in 2013. The driving post-punk obscurity that is "What's Wrong Yvette," by the nearly unknown Denver band Crank Call Love Affair, comes from their only record, a self-released 7" single of the same name.
Belgium's Red Zebra– now known as EX-RZ – contributes their raw, infectious brand of new wave in the form of the title track from their 1980 debut 7" EP "I Can't Live In A Living Room." Fellow Belgians Vita Noctis round out the compilation with their dreamy, recorded-to-cassette ballad "Hade," from their 1984 self-released tape In The Face Of ...Deaths
Includes 24"x33" fold-out poster by Alexander Heir.
TRACKLISTING:
Gatecrashers: Spectator (1:52)
Middle Class: A Skeleton at the Feast (4:19)
ADS: Waiting for the War (3:59)
Veda: Whiplash (4:11)
Skeletal Family: Promised Land (4:52)
Flowers for Agatha: The Freedom Curse (5:47)
Red Temple Spirits: Dark Spirits (4:20)
Crank Call Love Affair: What's Wrong Yvette (5:08)
Red Zebra: I Can't Live in a Living Room (2:53)
Vita Noctis: Hade (3:06)