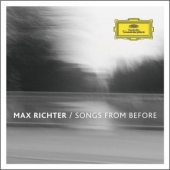 Richter Max
Songs From Before
Label: Deutsche Grammophon
Genre: Electronica / Ambient / Experimental
Availability
CD €15.49

Dispatched within 5-10 working days
Other Formats
Beautifully recorded and cinematic in scope, Max Richter's Songs From Before (2006) once again carries a pensive, emotionally resonant tone throughout that manages to fully engage the listener. Following 2004's critically acclaimed The Blue Notebooks, Songs From Before provides a further refined, perhaps even subtler take on Max's narrative landscape, yet sounds as contemporary and impacting as any of his previous work.
Punctuated by Robert Wyatt's distinctive, understated readings of Haruki Murakami's text (chosen by Max for it's haunting, Kafka-esque tone), Songs From Before utilizes piano, cello, violin and viola, with Max playing piano, mixing and producing. Augmented by regular contributors Louisa Fuller, Natalia Bonner, Rick Costa, John Metcalfe, Chris Worsey, and Ian Burdge, the music evokes forgotten memories or lost histories, a series of bittersweet articulations that seem suspended somewhere between a dreamy sense of awe and melancholia. The title refers to the fact that, as well as this being a kind of specimen case of music written over a long period, the album also carries other music inside it - with the sources ranging from music between 5 and 300 years old - either used as starting points for Max's own writing, or submerged deep within.
All of Max's music is part of an ongoing collection of writing, with music re-contextualized for each LP - records are an almost arbitrary slice across that continual process. As with a box of found objects carefully arranged to reveal meaning, the remote, grainy dubs that permeate the record, redolent of Mike Ink's Gas or perhaps the more opaque Basic Channel / Chain Reaction output, deploy slight shifts in tone and color, framing the music.
Comprised mainly of shortwave radio sounds (a fondly revered but increasingly archaic medium with the advent of the internet), this connects with the analogue and tape aesthetics of the music, and the title itself. Recorded at Eastcote Studios on 16 track 2 inch analogue tape via the old MCI desk (a forerunner of the 24track format that became the standard in the 70s and 80s), known as "the Bob Marley desk" because of his love of it, Max expands "this record is all about bass, so it is perfect."