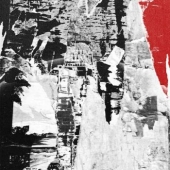 Soft Moon
Deeper
Label: Captured Tracks
Genre: Dark / Post Punk / Gothic / Neo-Folk
Availability
CD €16.99

Dispatched within 5-10 working days
• Luis Vasquez never intended for The Soft Moon to reach the public's ears. For him, music has always been about self-actualization rather than self- aggrandizement. Nevertheless, the bleak, hushed sounds he created years ago in his small Oakland apartment bubbled to the surface and 2010 saw his debut album, 'The Soft Moon' (released on Captured Tracks), rise to critical acclaim.
• Pitchfork's 8.1 review of 'The Soft Moon' stated that Vasquez made "oblivion seems like an enticing prospect" and, indeed, listeners were immediately drawn into his murky musical wasteland, swathed in the moody atmospheres of jagged dark wave and wayfaring postpunk. For them, and for Vasquez, there was no turning back. The 'Total Decay' EP and 'Zeros' emerged soon after and now Vasquez returns with The Soft Moon's most introspective and focused album to date: 'Deeper'.
• With eerie, immersive tracks like the dogged 'Far' and slow, beautifully melancholic 'Wasting', the album is a penetrating portrait of Vasquez as he wrestles thoughts of suicide, vulnerability and what it means to heal. 'Deeper' may have delivered Vasquez back to the waking world but it willingly drags us further into The Soft Moon's dark, euphonic universe once more.