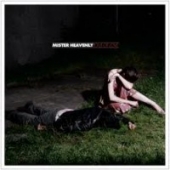 Mister Heavenly
Out Of Love
Label: Sub Pop
Genre: Rock / Pop
Availability
CD Digi / Cardboard €16.99

Dispatched within 5-10 working days
Comprised of Nick Thorburn (Islands/The Unicorns), Ryan Kattner (Man Man) and Joe Plummer (Modest Mouse).

At the very forefront of "doom wop" (more a state of mind than a nitpicky micro-genre), Mister Heavenly draws inspiration from a shared love of 1950s vocal-based R&B classics by ensembles like the Penguins, the Platters, and the Moonglows, and also a fascination with ill-fated romance

The album title, 'Out Of Love', is both a nod to passion as a motivator ("I did it out of love") and also the absence or dissolution of same ("She fell out of love with me"): two seminal lyrical themes in the annals of pop music.

"Doom Wop" owes as much to grunge and art-punk as it does '50s pop. When you mint your own style you can take such liberties.

Recorded live to tape at Bear Creek Studio in Woodinville, WA, Out of Love is Mister Heavenly's debut full-length album.