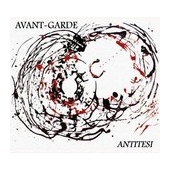 Avant-garde
Antitesi
Label: Manic Depression
Genre: Dark / Post Punk / Gothic / Neo-Folk
Availability
CD Digi / Cardboard €11.99

In Stock
Avant-Garde are a Rome based band created in 1994 by Alessio Schiavi with the attitude to re-elaborate the classic dark-wave sound trying to make it actual without losing its original feeling.
The "Ascension of the gods" gothic festival in 1997 gave the band the chance to be more visible outside of the roman scene.
In 1998 the track "Morendo" was included in the "Intimations of immortality, vol. IV" compilation produced by the label Energeia (Italy).
The self titled EP was produced a year later by Krylon Records. The unusual package see a one-side recorded vinyl in a poster bag, limited to 300 hand-numbered copies.
From 2002 to the late 2004 Avant-Garde became Alessio's solo project. During this period the band first full length CD titled "Cyanure" is released for a new label, the Rome based GB Productions. Alessio recorded every single sound of the tracks.
Alessandro Conte became the bass player at the fall of 2004, then Antonio M. joined A-G in 2006 as second guitar player.
This trio released the "D'inverno" EP in March 2007, then the CD album "Iron in flesh" for In The Night Time Records (released on April 4th 2008).
The band performed several gigs between 2006 and 2009 in Italy and Europe as well, having the pleasure to be the support act for RED LORRY YELLOW LORRY, MARK BURGESS AND THE SONS OF GOD, CINEMA STRANGE, WHITE ROSE MOVEMENT, AND ALSO THE TREES and playing at the following events: OBSCURE FEST II in Naples, DIE WUNDERKUR GOTHIC FESTIVAL in Bologna, LEFANTASTIQUE.NIGHT XXII in Brussels and AVANT-GARDISM FROM BEYOND in Saint Petersburg.
2010: New line-up, new sounds; Viviana B. and her synths join the band instead of a second guitar, so a new direction is gonna be traveled.
2013: The band releases its third album "Antitesi" on the french label Manic Depresison Records.