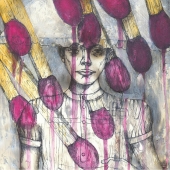 Still Gramophone
Phonophobia
Label: Cliche
Genre: Post Rock / Avant Rock
Availability
CD Digi / Cardboard €11.99

In Stock
H Cliché Records παρουσιάζει τον δεύτερο δίσκο των Still Gramophone, με τίτλο "Phonophobia". Συνεχίζοντας εκεί που σταμάτησε ο πρώτος ομότιτλος δίσκος, το μουσικό μείγμα ταξιδεύει ακόμα πιο μακριά, δημιουργώντας ένα πραγματικά ξεχωριστό άκουσμα κατάλληλο για φωνοφοβικούς και μή ακροατές.
Ο δίσκος φτιάχτηκε μέσα από μια πλειάδα συνεργασιών, με μουσικούς της Θεσσαλονίκης και όχι μόνο.
Συμμετέχουν ο Παύλος Σπυρόπυλος στο κοντραμπάσσο, ο Θεόφιλος Σωτηριάδης στα σαξόφωνα, ο Δημήτρης Δαλέζης στη τρομπέτα, η Ντόλλυ Λιάνα στο βιμπράφωνο και ο Δημήτρης Χατζηζήσης στο βιολί, ενώ δάνεισαν την μοναδική φωνή τους η ¨Ελενα Κρασάκη και ο Λευτέρης - J Kriste, Master of Disguise - Μουμτζής.
Κυκλοφορεί σε CD τριών διαφορετικών χρωμάτων καθώς και σε ψηφιακή έκδοση.
Facebook
Cliché Records
The gramophone is playing again, soothing its case of acute phonophobia: A condition caused by the persistent noise of irrelevant information. As prescribed, you take a mix of shy and epic songs, tropical marimbas and aggravated cellos. You add a pinch of bossa nova guitars with some gypsy violins and jazzed up vibraphones, then pour some dizzy brass with broken beats and mellow synths.

Drink up.