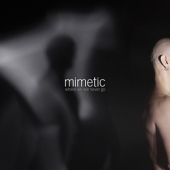 Mimetic
Where We Will Never Go
Label: Hymen
Genre: Electronica / Ambient / Experimental
Availability
CD Digi / Cardboard €14.49

Dispatched within 5-10 working days
with 'where we will never go', mimetic presents his latest full length album, which is, apart from a 3-track vinyl lp released in 2011, his first major work since 'one more than nine'. supported by many guests like vorph, singer of the metal band samael, contra-alto singer agnes martin-sollien and scalper, former vocalist of fun da mental, the 15 tracks are focusing on a large scale of electronic music styles, from crystal clear electronica, bass music, experimental with complex rhythms to techno. this album showcases a multitude of tempers where jerome soudan finds the perfect balance between soothing, spectral and impulsive moods, embedded in a breathtaking wide range of dynamics. also featured are three remixes by mira calix (warp records), mika vainio (pan sonic, mute) and niveau zero, where mimetic's original tracks are transformed into unorthodox abstraction, pulsing ultrasonic minimalism and distorted six-string dubstep rage. on this release mimetic will take you to places where you will never go - here is the invitation to follow.
bio:
jerome soudan started playing music at the age of 5 at the conservatory of chambery, france. he learnt to play orchestral percussions, clarinet and later on, acoustic and electronic drums. he obtained a master degree in musicology specializing in 20th century music at the university of lyon, france receiving a distinction in 1993, after submitting his master thesis on industrial music. then he settled down in paris where he worked with numerous contemporary composers such as kasper t. toeplitz for the grm (maison de radio france), with rock bands like les tétines noires, and industrial projects like von magnet. in 1996, he moved to berlin where he started to work as a composer and percussion player with the experimental band column one. in 2000, jerome established himself in geneva, switzerland and began working with the contemporary electro acoustic group art zoyd in france. he also founded an electronica project called wai pi wai with the belgian herman klapholz three years later. since then, he is also one of the official composers for the choreographer carol brown (nz) for whom he composed dance performances as well as video installations. other choreographers whom he worked witch are jan linkens (komische oper berlin,
germany) and lionel hoche (neerdeland dance theater 2 in the hague, the netherlands). in 2007 he was composing the music for the film 'un éclat' by rodolphe viémont, staging olivier py. he is also working regularly for the movie director lech kowalski (who did 'd.o.a' with the sex pistols, 'born to lose' with johnny thunders, 'hey is dee dee home' with dee dee ramone, etc…). jerome soudan is also the artistic director for the international festival electron (geneva's electronic music and art festival) and presences electroniques geneva (surround sound system festival) where he promoted artists like amon tobin, kruder & dorfmeister, dave clarke, miss kittin, autechre, mr oizo, biosphere, ryoji ikeda, carter tutti, monolake, carl craig, scanner, squarepusher and speedy j. he took also part in several concerts, live acts, dj sets or performances all over the world.