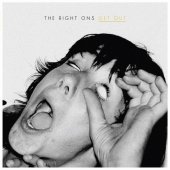 Right Ons
Get Out
Label: Lovemonk
Genre: Rock / Pop
Availability
Other Formats
The fact that they are the hottest band in the buzzing Spanish independent music scene in itself may not be enough to stop the presses, nor are all the comparisions to The Black Keys or the band citing Motorhead as their main influence. It's hard to break into the crowded new band scene, but let us give you a piece of advice before deciding who should stop the presses - just sit and listen to the album first.

A text like this usually tries to say how great the group is and how new and fresh their songs are. In this case, we're going to try to save time and space, and just talk about the Right Ons.

It's been five years since you first heard about them, their live shows and their songs. About their first two albums, their US tours, the release of the albums in Japan and the US. About their fans and their participation in various concerts, festivals and motorcycle rallies around the country. About being one of the buzzed about bands by Rolling Stone and Squire after playing SXSW two times.

But maybe this you didn't know- that they're five great guys who believe in what they do and love what they play. They have all the right albums in their collection, they take what they do seriously but still manage to have fun doing it.

After four years of touring, the band finally parked their van to write some new songs. Their previous albums were recorded in the Puerto de Santa María and in Boston, but this time they recorded near their homes in Madrid (although the studio is called Reno) with their own amplifiers and instruments. They sharpened their guitars and left behind the soul/ funk sound, going with garage rock and making their best album to date.

Just as in athletics, you always need to go faster, higher and further. This album is one of the steps in the triple jump, bringing you to another, more intense place. They're seven rock n' roll tracks- solid, dark, tricky, sexy, luminous, dirty.

When you started reading this text you were probably expecting a long list of high-falutent adjectives praising the band. So, here you go:

AMAZING, DEEP, TREMENDOUS, GREAT, SURPRISING, CAPTIVATING, EXPRESSIVE, GLORIOUS, DIRECT, FORCEFUL, STIMULATING, SUPERB, RAW, POTENT, SOLID, DARK, TRICKY, LUMINOUS, DANGEROUS, ENORMOUS, FASCINATING, POWERFUL, GRANDIOSE, HONEST, FANTASTIC, INCREDIBLE, INDISPUTABLE, EXTRAVAGANT, FRESH, VIBRANT, INTENSE, SUPERIOR, BRILLIANT, MAGNIFICENT, HUGE, ROCK N' ROLL, SPLENDID, BOMBASTIC, INTOXICATING, IMMENSE, STUPENDOUS, TERRIFIC, FIERCE, FEROCIOUS, WONDERFUL, COOL.