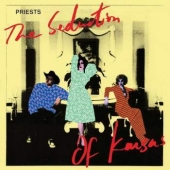 Priests
The Seduction Of Kansas
Label: Sister Polygon Records
Genre: Rock / Pop
Availability
CD €14.49

Dispatched within 5-10 working days
Other Formats
What is at stake in the seduction of Kansas? Like a gavel or hammer, the question rattles across the second LP from Washington, D.C. rock iconoclasts Priests: Entering their eighth year as a band, Priests—drummer Daniele Daniele, vocalist Katie Alice Greer, and guitarist G.L. Jaguar—remain an inspired anomaly in modern music.

A band on its own label—jolting the greater music world with early releases by Downtown Boys, Snail Mail, Sneaks, and Gauche—they are living proof that it is still possible to work on one's own terms, to collectively cultivate one's own world. Priests enlisted two primary collaborators in writing, arranging, and recording The Seduction of Kansas. After playing cello, mellotron, and lap steel on Nothing Feels Natural, multi-instrumentalist Janel Leppin (Mellow Diamond, Marissa Nadler) returned to breathe air into Priests' demos, serving as primary bassist and a fourth songwriting collaborator on The Seduction of Kansas. The band also found a kindred spirit in producer John Congleton (Angel Olsen, St. Vincent), recording for two weeks at his Elmwood Studio in Dallas. It marked the band's first time opening up their creative work to collaborate with someone outside of their DC-based community—a decidedly less hermetic approach. Priests found a third collaborator in bassist Alexandra Tyson, who has also joined the touring band. The songwriting process found the group once again analyzing the textures and scopes of albums as aggressive as they are introspective, like Massive Attack's Mezzanine, Portishead's Third, and Nine Inch Nails' Downward Spiral. The first single, "The Seduction of Kansas," is Priests' purest pop song to date. It is dark and glittering—though there is still something fantastically off about it, decadent and uneasy at once.

As journalist Thomas Frank explored in 2004's What's the Matter With Kansas?, the ideological sway of Kansas has often predicted the direction in which the U.S. will move—whether leaning socialist in the 1800s or going staunchly conservative in the 1980s. Illustrating Kansas' potent place in our national imagination—as well as "a chorus of whoever is trying to persuade the social consciousness of Kansas"—Greer sings brilliantly of a "bloodthirsty cherub choir" in a cornfield, of "a drawn out charismatic parody of what a country through it used to be," beckoning that "I'm the one who loves you." The song does what Priests do best: They make us think, stir us with complexity. As for "seduction," the word has long evoked pleasure, sex—but it can become propaganda, a tactic of manipulation, a ploy in the politics of persuasion. "There's something sinister about the idea of seducing a whole state," says drummer Daniele Daniele. "You're clearly up to something. Why would you do it?" The title—like Priests—is a moving target, probing questions about the realities and mythologies of America in 2019 without giving in to easy answers.