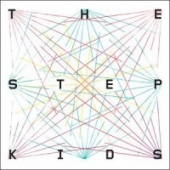 Stepkids
Stepkids
Label: Stones Throw
Genre: Freestyle / Nu Jazz / Funk / Afro
Availability
CD €6.99 Nice Price

In Stock
The Stepkids groove comes from a wide fusion of 60s funk and jazz, neo and classic soul and 20th century classical. The East Coast American trio produced, engineered and recorded the album themselves on a reel-to-reel.

The Stepkids have received critical praise from the likes of Pitchfork, Drowned In Sound and full support from BBC Radio 1 DJs, Zane Lowe and Gilles Peterson amongst others. The trio are praised for their early single 'Shadows on Behalf' as well as for their enigmatic live performances that mix their music with psychedelic visuals.

The music created by The Stepkids comes from more than a decade of musical experimentation and experience. Raised on the American East Coast jazz and R&B circuit, individual band members went on to share stages with Alicia Keys, Lauryn Hill, 50 Cent and Pharoah Monche, tour internationally, score movies and commercials, as well as produce solo albums.