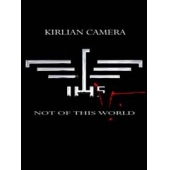 Kirlian Camera
Not Of This World
Label: Out Of Line
Genre: Dark / Post Punk / Gothic / Neo-Folk
Availability
CD x3 BOX €24.99

Dispatched within 5-10 working days
Limited edition of 3000 copies
It is most unnecessary to speak about KIRLIAN CAMERA's standing within the Gothic scene.
For an impressive three decades now, the Italian project delivers somber electronic sound odysseys far away from any current pattern.
Always deeply atmospheric, always unique, always characteristic: From the legendary mini album "Kirlian Camera" (1981) to the last studio work "Coroner's Sun" (2006) and the ultimate compendium "Odyssey Europa' (2010) an artistic vision between epic otherworldly darkness and passionate emotion always marked the centre of this band.

Marking the 30th anniversary of this influential legend, "Not of this World" celebrates this event with the most thorough retrospective so far, fulfilling every fan's wish and answering every unasked question concerning the band's eventful career.
An impressive array of 35 tracks stretches out across three CDs, assembling lots of previously unreleased tracks, long-forgotten gems, rare live versions or sought-after remixes to the most comprehensive compilation of its kind.
Regular best-of releases do not even come near this brimful treasure chest.
Sounds "not of this world": From Angelo Bergamini's first experimental attempts in the eighties, when he created sheer electronic wonders despite the restricted technological possibilities, to the still current era with the long-legged vocal talent Elena Fossi by his side, this triple-box consistently traces a pathway that made the band not seldom controversial but sprang from the most urgent will of artistic realization. The easy way was never a possibility for KIRLIAN CAMERA - and "Not of this World" proves just how thankful electronic music can be for that.

Clothed in a DinA5 (DVD)-sized digipak within a numbered case and precious silver hotfoil printing, also the extensive booklet lives up to this overflowing release and offers uncountable unreleased pictures printed on exquisite paper.
CD1
1. Non di questo Mondo (previously unreleased)
2. Edges (Mission Walhalla V)
3. Black Harbour (Helma Nah' Shmarr)
4. K-Pax (Fotonovela mix)
5. Drifting
6. Citizen Una
7. K-Space-Y 1
8. Ocean (live - previously unreleased)
9. Illegal Apology of Crime
10. E.D.O. Europa Drama Orbit (Blank mix - previously unreleased)
11. Days to come (Sensory Gate mix - rare)

CD2
1. Die Vergessenen
2. Eclipse (original version 1988)
3. The Burning Sea (retro-engineering 2)
4. Aura
5. Wasted Bridges
6. The Limit
7. After Winter (version by Naevus)
8. The icy Dawn
9. Sea of Memory
10. I am the Light
11. Thanks Pigs
12. Autumn Room
13. Für Immer

CD3
1. Tauko A
2. Anti-Light
3. Uninhabited
4. Arctic Grey 2
5. Koma-Menschen
6. Panic Area
7. Kobna Dob (The Sinister Season)
8. Tor Zwei
9. Manson Days in Heaven (previously unreleased)
10. Mission Diary 1
11. I know you are born (rare)