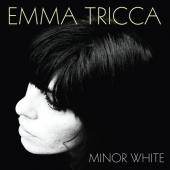 Tricca Emma
Minor White
Label: Finders Keepers
Genre: Rock / Pop
· Italian-born, London-based singer-songwriter Emma Tricca has had her
life shaped by two key encounters with folk legends. While still only an
apprentice songwriter just out of school she met John Renbourn when
he played a solo show in Rome. After the gig Emma got the opportunity
to play John one of her own songs – his approval gave her the
confidence to start writing and gigging properly and they remain firm
friends.
· In the summer of 2006 she was spotted playing at the Green Man festival
in Wales by DJ and Finders Keepers / Twisted Nerve record boss
Andy Votel and his partner, the singer-songwriter Jane Weaver. The
meeting led Emma to be invited by Jane and Andy to play a night they
were involved in as part of Jarvis Cocker 2007 Meltdown festival.
Both her performance and her contribution to the attendant compilation
album were critically acclaimed by the international press, leading to a
full UK and European tour and dates supporting John Renbourn.
· Recorded in Famous Times Studios and released on Finders Keepers
/ Bird Records, 'Minor White' is the perfect summation of Emma's
story so far – a natural product of all those miles travelled and all those
songs played. Indeed, the elegance and unvarnished charm of the
songs here is only matched by the sense of well-travelled melancholy
that reflects Emma's International upbringing.
· It's a truly timeless work, which means that these songs will endure
as much as those that inspired Emma to pick up a guitar and start to sing
in the first place.
· Handmade LP sleeve limited to 500 copies.