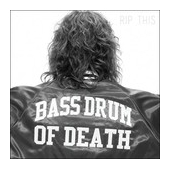 Bass Drum Of Death
Rip This
Label: Innovative Leisure
Genre: Rock / Pop
Availability
CD Digi / Cardboard €16.99

Dispatched within 5-10 working days
John Barrett returns with his second full length for LA label Innovative Leisure as Bass Drum of Death. Elevating Bass Drum of Death from the scrapheap of garage rock challengers fighting for attention, Rip This is BDoD's most impressive record yet, combining the best elements of the American rock underground with a raw approach that's original and exciting.
Bass Drum of Death's appeal has always transcended the band's roots in the local Oxford, Mississippi touring circuit where John Barrett first cut his teeth. Since his debut 7-inch on Fat Possum back in 2008, he's realised this potential again and again, most notably with his genre-bending collaboration with Odd Future's Mellowhype and a slot on the infamous Vinewood Boulevard radio station on the GTA V videogame. But it's with Rip This that Barrett has really hit his stride.
The process has been markedly different throughout. For previous albums Bass Drum of Death (Innovative Leisure, 2013) and GB City (Inflated Records, 2011), Barrett wrote all the material himself at home and recorded it on a basic GarageBand setup. This time around, he enlisted drummer Len Clark as a fulltime member and collaborator and UMO bassist Jacob Portrait as producer. Over a two-week stint at Prairie Sun Studios in Sonoma County, California the trio created the first BDoD studio album.