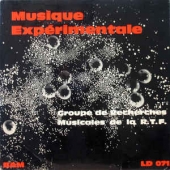 Various Artists
Musique Experimentale
Label: Cacophonic / Finders Keepers
Genre: Jazz / Avant Garde
Availability
LP €23.99

Dispatched within 5-10 working days
Further concrète explorations from the second generation of forward-thinking sonic auteurs that would push the boundaries of experimental music known collectively as the Groupe de Recherches Musicales - founded by the father of musique concrète, Pierre Schaeffer - which has influenced generations of artists across the world.

Undoubtedly one of the most influential experimental and electroacoustic musicians, Pierre Schaeffer is also credited as being the father of the theory of musique concrete as well as later coining the term itself. Having found a job in 1936 at Radiodiffusion Française (later Radiodiffusion-Télévision Française or RTF) as an engineer, Schaeffer developed a newly found interest in music and with the blessing of his superiors made the most of his access to the Radiodiffusion Française studios, utilising his abilities as an engineer to experiment with sound whilst collaborating with musicians and composers that passed through the station's hallowed doors. In 1942 Schaeffer and influential theatre director, producer and actor Jacques Copeau founded the Studio d'Essai (renamed Club d'Essai in 1946) as part of RTF in order to experiment with radiophonic techniques. Drawing on the works of French filmmaker, critic and novelist Jean Epstein, Schaeffer would occupy his time and his mind with the manner in which sound recordings "revealed what was hidden in the act of basic acoustic listening" and in 1948 formally set about his research in ernest – the results of which were presented as a series of studies known as Cinq études de bruits (Five Studies of Noises) during a concert in Paris.

With word of his theories and experiments spreading, Schaeffer was able to press the RTF management to further finance and in doing so expand his research. However, for an undertaking of this size he would need help. Having previously collaborated as part of his early research with a young classically trained composer by the name of Pierre Henry, Schaeffer had no problem convincing the RTF executives he was the right man of the job. By adding a third prong to this sonic fork in the shape of sound engineer Jacques Poullin, Schaeffer was able to complete a powerhouse, which he renamed the Groupe de Musique Concrète, that would push his experiments further than he could have imagined. In1951, RTF handed the trio the keys to one of the earliest purpose-build electroacoustic studios (the other being the WDR Studio in Germany), furnishing it with state of the art bespoke equipment such as a Morphophone (designed by Poullin himself and capable of tape loop-delay) and a Phonogène (a multi-headed tape instrument also designed by Poullin). The studio went from strength to strength, attracting composers such as Karlheinz Stockhausen and Edgard Varèse to collaborate, and in that same year Schaeffer and Henry produced and premiered what is considered to be the first opera concrète, Orphèe 51.

As Schaeffer's notoriety grew as did demand for his time and he found himself increasingly called away from the studio during which time he would hand the keys to over to his colleagues. Pierre Henry wasted no time in pursuing projects closer to his own heart, working with experimental filmmakers and choreographers like Maurice Béjart (the two would later collaborate with Michel Colombier on the cult classic Les Jerks Électroniques De La Messe Pour Le Temps Présent Et Musiques Concrètes Pour Maurice Béjart). In 1957, following a particularly prolonged absence on RTF duties, Schaeffer returned unhappy with the direction the group had taken and tabled an idea to revitalise both their approach as well as personnel. As a result, Henry and several other key members left the group the following year leaving Schaeffer to lay the foundations in 1958 for a new collective called Groupe de Recherches Musicales – one of a number of theoretical and experimental groups overseen by Schaeffer's Service de la Reserche at RTF – and set about recruiting new members including Iannis Xenakis, Henri Sauguet, Luc Ferrari and Michel Philippot as well as usher in a new steady stream of eager musicians eager to study within what had rapidly become (and still is) a national institution – including a young Jean Michel Jarre!