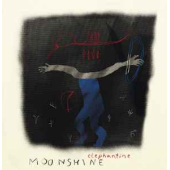 Louca Maurice And Elephantine
Moonshine
Label: Sub Rosa
Genre: Jazz / Avant Garde
Maurice Louca & his band Elephantine announce Moonshine, shining brightly with a live, raw, collective sound. Maurice Louca's band is incredible: double drummers Tommaso Cappellato & Özün Usta, Piero Bittolo Bon on alto, Daniel Gahrton on baritone and Isak Hedtjärn on clarinet, Rasmus Svale Kjærgård Lund on tuba, Rosa Brunello on bass, Els Vandeweyer on vibraphone, Louca on guitar/lap steel/synth.

As Asher Gamedze puts it in his essay: "Abstract territories of freedom, always grounded, expansive, multiple, internally differentiated, and elephantine."

One of the most gifted, prolific and adventurous figures on Egypt's thriving experimental arts scene, Louca has in recent years garnered a global reputation through three previous solo albums and an expanding, evolving lineup of genre-defying collaborations. The Wire called his 2014 sophomore solo effort, Salute the Parrot, "remarkable music-dense, driven and splashed with colour.

For Louca, Elephantine serves as both the pinnacle of his wide-ranging experience and a bold next step in his development as a composer, arranger and bandleader, from Cosmic Jazz, African and World music to transcendental modal traditions. The music-from its pensive lulls through its stretches of hard-grooving hypnosis and moments of avant-jazz.

Red vinyl.