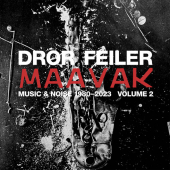 Feiler Dror
Maavak ( Music & Noise 1980​-​2023 Volume 2 )
Label: Ideal Recordings
Genre: Jazz / Avant Garde
Availability
CD x10 BOX €74.99

In Stock
MAAVAK a two 10xCD box sets presenting the intense, present, sometimes fragile & often challenging music of Swedish/Israeli composer, musician, artist and activist DROR FEILER, celebrating 50 years of musical, artistic and political actions in Sweden and around the world.
These two box sets presents his wide range of styles; from noise attacks to orchestral compositions, from chamber music to solo saxophone pieces. There is a sort of brutal sensitivity to his works, or maybe rather a sensitive brutality. Let it be works for solo acoustic instruments or full symphony orchestra works (in one of them with Blixa Bargeld as vocal solist).

Each volume is limited to 300 copies and is mastered and designed by Lasse Marhaug.