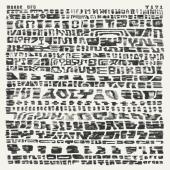 Monde Ufo
7171
Label: Fire
Genre: Rock / Pop
Availability
LP + 7" €29.99

Dispatched within 5-10 working days
Monde UFO, LA-based duo of Ray Monde and Kris Chau, are a monochromatic sunset for the senses. A sonic journey through psychedelia, space rock and jazz. A cosmic space where Spacemen 3 meets Vanishing Twin, by way of Sun Ra. 7171 perfectly embodies the framework of lo and hi-fi sounds which have helped define the band. Included in this expanded package is Four Songs, Monde UFO's radical interpretation of Fugazi's music, housed for the first time on LTD 7" with new artwork.

In a downtown Los Angeles warehouse, on 7th Street, Ray Monde began writing songs on an old Yamaha church organ for a project that eventually became Monde UFO. Utilizing the organ as a bass, alongside keyboards and a drum machine, he began making demos on a four-track cassette recorder. Heavily influenced by the musician Sandy Bull, sonically landing in a similar no-man's land of Worldly Jazz and Psych Folk.

Monde experimented with the themes mostly of meditation and UFO lore. In time Ray moved in with the artist Kris Chau. With little crossover in musical tastes, they exclusively started listening to jazz, ambient and new age music in the house. Increased interest in sound baths and experimental music led to seeing music in a different light. Envisioning something that would sound like Don Cherry making a record with Yo La Tengo. '7171' is an amalgam of influences, interpretations and otherworldly sounds channelled through genre bending experimentation.

This expanded edition of '7171' includes the sought after 'Four Songs' EP, a reimagining Fugazi's early classics, songs that take on a life of their own, lost amongst the haze and sugar sweet psych. Ray Monde explains, "Long Division was one of my favourite tracks off 'Steady Diet of Nothing' the first Fugazi record I ever owned; more than ever, it also feels truly poignant in the times we live in. Version 2 is our interpretation of Version from 'Red Medicine', my favourite Fugazi Record." // "A slice of low-key bedroom pop-psychedelia in the vein of Syd Barrett." Aquarium Drunkard // "Monde UFO wander through a humid mist of exotic samba shuffles, shamanic whispers, and reverberating laser beam synthesizers." New Commute.