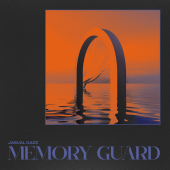 Jasual Cazz
Memory Guard
Label: Chuwanaga
Genre: Freestyle / Nu Jazz / Funk / Afro
Chuwanaga proudly presents Jasual Cazz's inaugural album "Memory Guard". Delving into the heart of jazz fusion, the French trio bridges the nostalgia of bygone years and the avant-garde essence of tomorrow.

Memory Guard surely brings some flavours of the seventies and eighties era with their vintage synthesizers. "Better Before", the joyful "Double Comète" or even "Tell Tale" re-enact this legacy while keeping it always groovy and thoughtful.
But, as if plucked from the ethereal realm of dreams, "Tell Tale", "Mèches" or "Libellule" sound like hidden places, mysterious pieces of music and time where the memory moves forwards.
In the meantime, "Temple", "Jungle Meat" or "L'Arche" venture into modern sonic realms, embracing post-jungle influences that propel jazz into uncharted territories. Body and mind can now synchronize.

Painting an auditory landscape that unfolds in a myriad of hues and forms, Memory Guard really follows the inventiveness of the actual jazz scene but with the emotional intelligence of the French jazz-funk heritage.

Jasual Cazz is the brainchild of Theo Boero on bass, Pierre-Louis Vanier on keys, and Japhet Boristhene on drums, hailing from the vibrant city of Lyon, France.