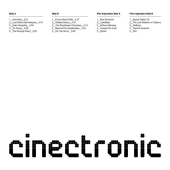 Kappa Music Library
Cinectronic
Label: Kml Recordings
Genre: Electronica / Ambient / Experimental
Availability
LP + MP3 COUPON €21.99

In Stock
Kappa Music Library is the solo music vehicle of Kostas Karamanlis (AKA Kostas Kappas or simply Kappa), founding member of Watara Matara and ex-leader of Solar Music Library.
His debut album, Cinectronic, is an electronic homage to celebrated B-Movies and Cult films, inspired by vintage electronic music and library/soundtrack music. He generally refers to his style as "Production Music".
Recorded on home computer by Kappa Music Library and mastered on tape by George Vasilas at Foundry recording studio. Cover artwork and design by Anifactum Design Studio.
Cinectronic is out in limited edition numbered vinyl of 100 by KML Recordings.