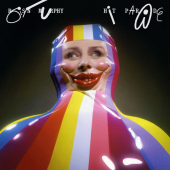 Murphy Roisin
Hit Parade
Label: Ninja Tune
Genre: Freestyle / Nu Jazz / Funk / Afro
Availability
Other Formats
The inimitable and boundary pushing Róisín Murphy today announces her highly anticipated forthcoming album, 'Hit Parade', produced in collaboration with electronic music virtuoso DJ Koze. The 13-track compendium of genre-melding gems is set for release on the 8th September on Ninja Tune and this announcement arrives accompanied by a new single, "The Universe". Murphy will also headline at London's legendary Alexandra Palace on the 17th of Feb, set to be another unmissable showcase of her performance prowess.

With 'Hit Parade', Murphy continues her ever evolving, shape-shifting 30 year career, looking towards the future by joining forces with DJ Koze to conjure blissful music that teems with life and imagination. A hyper-modern record which is a world away from 2020's critical and commercial success of "Róisín Machine", it further cements Murphy as a total one of a kind at a creative peak, a constantly inquisitive and restless spirit who is unmatched.

The warm thump of hip-hop, playful psychedelia, and elegant soulful grooves are all part of Murphy and Koze's vision here, resulting in a record that's endlessly replayable even as its melodies become glued to your brain. The 13 indelible tracks that contribute to the album's effortless sparkle were six years in the making, put together almost entirely remotely. Fans of both artists will know that this inspired collaboration was borne out of Murphy's contributions to Koze's 2018 "Knock Knock" -specifically, "Illumination" and "Scratch That"- and as Murphy worked with Koze on 'Hit Parade' she found their shared creative process revelatory in its own ways, all of which will become apparent.

Deluxe purple marbled vinyl 2LP on Ninja Tune, including an exclusive additional track. Rigid gloss laminate gatefold sleeve with holographic foil print, 24-page booklet and mirrored inner sleeves.