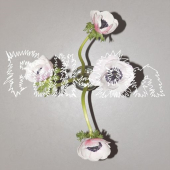 Klara Lewis & Void Nik Colk
Full-on
Label: Alter
Genre: Electronica / Ambient / Experimental
Individually both Klara Lewis and Nik Colk Void carve out idiosyncratic voices in the worlds of extreme, abstract electronic music. With their collaborational release 'Full-On', Lewis and Void explore and assimilate the very edge of their individual practice. They play ping pong with the conversation of sounds, generating ideas and bouncing them off each other,
simultaneously encouraging the other to go further with their
ideas opening up an opportunity to engage with previously
unexplored terrain.