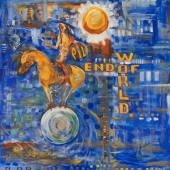 P. I. L. ( Public Image Limited )
End Of World
Label: P.i.l.
Genre: Rock / Pop
Availability
LP x2 €29.99

Out of Stock
The band began writing and recording End of World in 2018, during their 40th anniversary tour. After The Great Pause, the band regrouped in the studio and "there was just this massive explosion of ideas," Lydon says. The result finds PiL set to release 13 of the best tracks they have ever written.

The announcement comes with the release of new single Penge, which John describes as, "something of a mediaeval Viking epic."

Earlier this year, PiL released Hawaii, the most personal piece of songwriting and accompanying artwork that John Lydon has ever shared. The song is a love letter to John's wife of nearly 5 decades, Nora, who is living with Alzheimer's. A pensive, personal yet universal love song that has resonated with many since its release in January, the song sees John reflecting on their lifetime well spent and in particular one of their happiest moments together in Hawaii. The powerfully emotional ballad is as close as John will ever come to bearing his soul. "It is dedicated to everyone going through tough times on the journey of life, with the person they care for the most," John says. "It's also a message of hope that ultimately love conquers all. As I say in the song, all journeys end and some begin again, but this is the beginning of a new journey with us.

And, oddly enough, as bad as Alzheimer's is, there are great moments of tenderness between us. And I tried to capture that in the song." Celebrating their 40-year anniversary in 2018, the band is widely regarded as one of the most innovative and influential bands of all time.