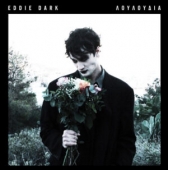 Eddie Dark
Loyloydia
Label: Geheimnis
Genre: Dark / Post Punk / Gothic / Neo-Folk
Availability
LP + MP3 COUPON €20.99

Out of Stock
Eddie Dark is a one man project rose from the catacombs of Athens.
Taking inspiration from the melancholic but energetic sound of the 80's New wave/post punk and blending it with elements of modern synth-pop, Eddie tells grotesque stories about lost love and the uncomfortable facts about being undead with heavy doses of self awareness and poetic sarcasm, all packaged in a B-Movie horror aesthetic.
On April 2023, Eddie released "Freakwave Cassette Vol.1" a 7 song EP raging from sad synthpop to aggressive synth-punk.
"Λουλούδια" ("Flowers"), . it's Eddie Dark's first full length album including 10 morbid songs about dealing with the grief of losing your favourite person. The LP comes with an insert and a download code.
Green vinyl.