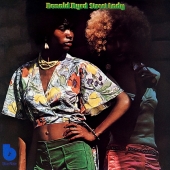 Byrd Donald
Street Lady
Label: Music On Vinyl
Genre: Jazz / Avant Garde
Availability
LP 180gr Audiophile €31.99

In Stock
Donald Byrd was an American jazz and rhythm & blues trumpeter, vocalist, composer and bandleader. In his early career he was one of the few hard bop musicians exploring funk and soul while remaining true to his jazz roots. His 1973 album Street Lady was produced by Larry Mizell and contains the classic jazz-funk tracks "Lansana's Priestress" and "Street Lady". Personnel playing on the album include Fonce Mizell (Larry's brother) on clavinet, trumpet, vocals and Harvey Mason on drums.

Some of the songs on this record were later sampled by artists like Jungle Brothers, Del the Funky Homosapien, and Theo Parrish amongst others.

Street Lady is regarded as classic jazz-funk album and is available in the original replica gatefold sleeve.