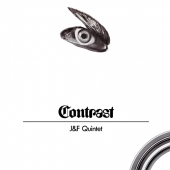 J & F Quintet
Contrast
Label: Bbe
Genre: Jazz / Avant Garde
Originally released in 1976 on the Swiss label Delta Production, Contrast is a highly collectible and very rare example of Swiss Jazz that is now re-issued by BBE Music.

Its new release is due in no small part to the diligence, enthusiasm and curatorship of IF Music's Jean-Claude. With mint copies of the original going for upwards of £350 the release of J&F Quintet's Contrast is a gift to all serious Jazz heads and collectors.

Recorded by founding band members Stefan Schneller, Donat Beer and Toni Schädler, with the addition of drummers Gieri Bievi and Peter 'Huck' Hug and bassist Andri A Piorta, Contrast fuses Jazz with music from the Swiss-Romansh traditions to create an absolute masterpiece of a debut album. Surprisingly, Contrast also constitutes the only release by J&F Quintet as the members were subsequently to go their separate ways to work on other projects.

It is thanks to Jean-Claude's determination and ear for great music that we are able to hear this fantastic album. After hearing it played to him at a record fair, Jean-Claude set about tracking down the original members of the band with a view to re-issuing Contrast. Post pandemic he was able to contact the band members who, rather fortuitously, still had the original master tapes. It is from these tapes that the album has been beautifully remastered ready for release on BBE Music.