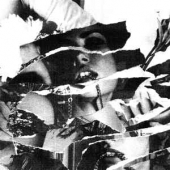 Forever Grey
Sympathy Garden
Label: Young And Cold Records
Genre: Dark / Post Punk / Gothic / Neo-Folk
Limited Edition of 300 copies on purple Vinyl
Reading the band's name FOREVER GREY, one might assume that the group is heavily inspired by The Cure's "Faith" album. Their hometown Los Angeles lets think of Deathrock, but both is only partially true. The album "Sympathy Garden" - firstly self-released by the band on tape in 2022, now pressed on vinyl in Europe by Young & Cold Records - moves between these two poles and the result is contemporary Darkwave, which due to catchy synth lines, vocals deep from the caves, bare rhythms and fat bass quickly stays in the ear and also works on the dance floors of the clubs.

FOREVER GREY have been releasing their music continuously since the mid-2010s and since Young & Cold Records started putting the back catalog on vinyl in 2020, Europeans have finally been able to get an idea of FOREVER GREY, hopefully live for the first time on this side of the Ocean this year's autumn.
"Last Breath" is a potential club hit, "Nothing ever changes" and "Tragedy" should quickly become favorites live and "Familiar Faces" will suit many fans' foggy autumn days at home.