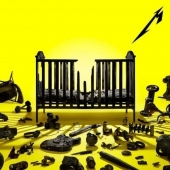 Metallica
72 Seasons
Label: Blackened Recordings
Genre: Stoner / Post Metal / Industrial Rock
Availability
LP x2 +MP3 COUPON €47.99

In Stock
Other Formats
Produced by Greg Fidelman with Hetfield & Ulrich, and clocking in at over 77 minutes, the 12-track 72 Seasons is Metallica's first full length collection of new material since 2016's Hardwired…To Self-Destruct. T

72 Seasons is heralded by first single "Lux Æterna," a short, sharp blast that distills 40 years of Metallica into three and a half minutes. "Lux Æterna" is available now to stream and download, and as an instant grat track with all pre-orders of 72 Seasons. To watch the "Lux Æterna" video, directed by Tim Saccenti, go here.

Speaking on the concept of the album title, James Hetfield said: "72 seasons. The first 18 years of our lives that form our true or false selves. The concept that we were told 'who we are' by our parents. A possible pigeonholing around what kind of personality we are. I think the most interesting part of this is the continued study of those core beliefs and how it affects our perception of the world today. Much of our adult experience is reenactment or reaction to these childhood experiences. Prisoners of childhood or breaking free of those bondages we carry."

Limited edition midnight vinyl.