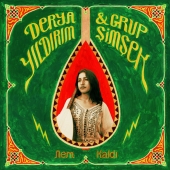 Yildirim Derya & Grup Simsek
Nem Kaldi
Label: Bongo Joe
Genre: World Music
Long awaited repress of Derya Yıldırım & Grup Şimşek first album Nem Kaldi ! 4 heart-melting gems where Turkish Folk meets groove, psychedelic and rock. Released originally in 2017, Les Disques Bongo Joe are happy to announce the repress of a classic from their catalogue, Nem Kaldi, the legendary first vinyl iteration of well-known groovers Derya Yıldırım & Grup Şimşek.

This album revealed the band to the world and was the first piece in DYGS international career. Nem Kaldi features two original compositions and two covers.

The EP kicks off with legendary Aşık Mahzuni Serif's Nem Kaldı, a groovy lament with killer melodyline, Instrumental 3,2,2,3 is a 5/4 psychedelic mover lead by the acid sounds of the organ – a subtle tribute to the architects of Anatolian Rock Moğollar.

On B side, Derya delivers a splendid interpretation of Özdemir Erdoğan's song Gurbet. Davet, a Grup Şimşek composition, is a dancey, Saz-lead song likely to shake many dancefloors with emotion. The lyrics are drawn from a poem by Nazım Hikmet, father of modern Turkish poetry. If you liked the DOST series, you'll melt for this!