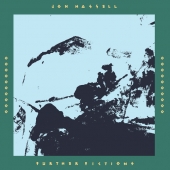 Hassell Jon
Further Fictions ( The Living City/psychogeography )
Label: Ndeya
Genre: Electronica / Ambient / Experimental
Availability
CD x2 BOOK €27.99

Dispatched within 5-10 working days
New archival releases from Ndeya that showcase Jon Hassell and group in the late 1980s exploring a radical tangent on his Fourth World sensibility.

During this period Hassell was inspired by the increasingly innovative production techniques being used in hip-hop, in particular the hyper-collaged sampledelic barrage of the Bomb Squad's work with Public Enemy, hearing it as a kind of extension of the tape splicing that Teo Macero brought to his work with Miles Davis. He began to incorporate more of this aesthetic into his own music, playing over loops of his own performances and riffing on angular juxtapositions of noise, rhythm and melody. The resulting sonic stew is a kind of futuristic sci-fi funk with an appropriately melted production aesthetic – instruments and samples jumping to the forefront then disappearing in the manner of the best dub records.



Further Fictions is a double CD anthology of the music on the vinyl editions, with a disc devoted to each album in hardbound book style packaging, and an extensive booklet containing sleevenotes and archival images.

Jon Hassell passed away at the age of 84 on 26 June 2021, leaving behind a significant legacy of highly influential music and art created over his lifetime. He was a Zelig-like figure who interconnected with an enormous range of 20th century art and music: growing up going to juke joints and blues parties in post-WWII Memphis; studying under Stockhausen with Holger Czukay and Irmin Schmidt of Can; befriending Terry Riley and playing on the classic recording of "In C"; forming part of the Theatre Of Eternal Dream Music with La Monte Young and Marian Zazeela; mentored in raga by Prandit Pran Nath; playing with David Rosenboom and Naná Vasconcelos on his first record; collaborating with Eno; playing on Remain In Light with Talking Heads; lifelong friendship with the artist Mati Klarwein; recording with Farafina, Ry Cooder, Leslie Winer, Juan Atkins and Moritz Von Oswald, amongst many others; the full list goes on and on.

The Ndeya label was set up by Jon in partnership with Warp Records as a home for his music. So far Ndeya has issued his two Pentimento albums - Listening To Pictures (2018) and Seeing Through Sound (2020), a remarkable curtain call from a true auteur, as well as a much-needed reissue of his debut album Vernal Equinox, remastered from the original tapes, and a limited run collection of his writing about his own music, Atmospherics. Now that he is sadly no longer with us, Ndeya is working with Jon's estate on preserving his legacy going forward, with a number of archival projects underway.