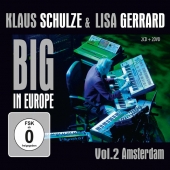 Schulze Klaus / Gerrard Lisa
Big In Europe Vol. 2: Amsterdam
Label: Mig Music
Genre: Electronica / Ambient / Experimental
Availability
CD x2 + DVD €19.99

Dispatched within 5-10 working days
While other musicians mostly vary their repertoire with nuances, every Klaus Schulze performance is hard to predict.

His former bandmate Edgar Froese (Tangerine Dream) once needed a nice image when describing his way of improvising on stage with electronic instruments, "This is like a parachute jump where one cannot be sure if the parachute will even open."

This was particularly true during the time of the unpredictable, analog synthesizers- but Klaus kept this same work method throughout the years without making any changes. And with this he is one of the few musicians who saved this art of improvising, all during the transition from the analog to the digital era.

This is also true according to Schulze's principle, "It is important that I do not have a clue when I should be going onstage." What appears to be a paradox or what smells like absolute randomness is quite the opposite; it is a reference to all factors of this deciding moment along with a full release as well as an arrival.

The definite highest point however would be the Amsterdam concert. It may also be that it was the tour's third concert after Warsaw and Berlin and all those involved had perfectly played one after another. But this does not explain the magic and the breathtaking dramaturgy of the entire performance. The non-verbal and deeply emotional interaction between Klaus Schulze and Lisa Gerrard was seldom so homogenous, real union as it was here!