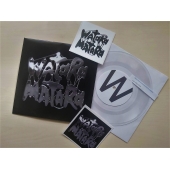 Watara Matara
Watara Matara Ep
Label: Watara Matara
Genre: Electronica / Ambient / Experimental
Availability
7\" + MP3 COUPON €14.99

In Stock
During the covid pandemic two friends joined forces to make their own uncompromising music. The result was WATARA MATARA, an amalgam of Electronic and Rock music with various influences ranging from Jungle beats, soundtracks, funk and even some hints of Jazz.

While they're finishing the recordings for their debut LP, the duo decided to present their project with 2 tracks that focus more on the electronic side of things.

"Watara Matara EP" comes in a limited Lathe Cut transparent 7inch single, along with logo stickers and bandcamp download code.