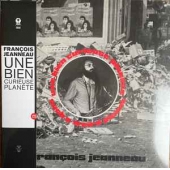 Jeanneau Francois
Une Bien Curieuse Planete
Label: Souffle Continu Records
Genre: Jazz / Avant Garde
Paris, 1965. Pianist François Tusques laid the foundation stone of French-style free jazz with his first, soberly titled, album "Free Jazz". Also in the team were several future key names of the French scene, (Michel Portal, Bernard Vitet, Beb Guérin, Charles Saudrais and François Jeanneau) all of whom honed their skills at the beginning of the decade in Jef Gilson's groups, although he was none too fond of the turbulent new face of jazz at the time.

Ten years later, Jef Gilson had obviously changed his tune, as the label Palm that he had created in 1973 was now the launch pad for what would become the cream of French and international avant-garde jazz. This would notably be the case for François Jeanneau and "Une Bien Curieuse Planète". His first album as leader (after briefly erring into pop with Triangle) was recorded in 1975, a few months after "Watch Devil Go" by his old friend Jacques Thollot, and with more or less the same casting: Jeanneau on sax of course, Jenny-Clark on bass and percussions, Lubat replacing Thollot on drums and Michel Grailler (plucked out of Magma) was called in as a reinforcement for his completely 'out of space*' synthetiser sounds. Thus began a strange trip to a very strange planet, at the border of experimental jazz and swinging avant-garde.

From 1960 to nowadays, from Georges Arvanitas to Laetitia Shériff, from Manu Dibango to "Mama" Béa Tékielski, everyone has wanted to play with François Jeanneau at some point. There is a good reason for this. The saxophonist is a formidable improviser, but also a solid composer, as he demonstrates on this record with, for example, the monumental "Droit d'Asile", the spooky "Theme For An Unknown Island" or the Coltranesque "Mr J.C. For Ever". Over half a century later, the planet seems far more familiar to us. And François Jeanneau is always on the front line for a guided tour.

Jérôme « Kalcha » Simonneau

Obi, 4pp booklet.