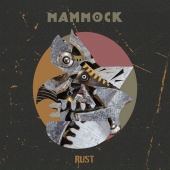 Mammock
Rust
Label: Venerate Industries
Genre: Rock / Pop
With their Itch debut released just two months before Covid-19 sprung out, Mammock managed to play only two gigs before they had to self-isolate with no other purpose and option than to sit down with their instruments at home and generate new ideas.

The band plunged deep into their collective subconscious to externalize the alienation of consecutive lockdowns and the deprivation of basic freedoms, without any idea of the future. This reflected both on the music and lyrics. Riffs became even more intense. Dissonance spread all over the songs. Obsessive grooves took over. Simultaneously, themes dealt over femicides, social struggle, gender acceptance, racism and so on and so forth.

Mammock went into the studio in the summer of 2021 to record their second album. They finished their parts in two weeks and went back to their lives, in this new destabilized world. Without any knowledge, they crafted the soundtrack of the whole post-pandemic era through seven tracks of unique musical weirdness. Deeper, darker and heavier. This is Mammock. This is Rust.