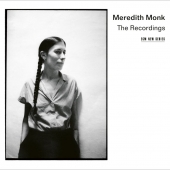 Monk Meredith
The Recordings
Label: Ecm
Genre: Jazz / Avant Garde
Availability
CD x13 BOX €109.99

In Stock
"Monk has mapped a world that never quite existed in the history of the arts. At once visceral and ethereal, raw and rapt, her works banish the spurious complexities of urban life and reveal a kind of underground civilization, one that sings, dances, and meditates on timeless forces."
Alex Ross, The New Yorker

The Recordings, a box set edition compiling all Meredith Monk ECM New Series discs to date, is issued on the occasion of the composer and singer's 80th birthday. With Dolmen Music in 1981 Meredith became the first singer to be the front person on an ECM recording.

Included here are the albums Dolmen Music, Turtle Dreams, Do You Be, Book of Days, Facing North, ATLAS, Volcano Songs, mercy, impermanence, Songs of Ascension, Piano Songs, and On Behalf of Nature. Each album is a revelation.

This beautifully designed box set incorporates a 300-page book reprising all original liner notes, as well as new texts and interviews. Additionally the book includes an introductory essay by Frank J. Oteri, "The Worlds of Meredith Monk", an autobiographical text by Meredith titled "The Soul's Messenger" and a preface by Manfred Eicher. Plus: many photographs (some previously unpublished), quotes from the press, archival documents, and more.