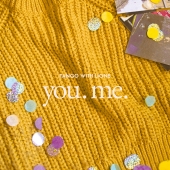 Tango With Lions
You. Me.
Label: Inner Ear
Genre: Rock / Pop
Availability
LP 180GR +MP3 COUPON €23.99

In Stock
Other Formats
Το "you.me." είναι ο τέταρτος δίσκος της Tango with Lions.

Τα εννέα τραγούδια του άλμπουμ αναπολούν συνυπάρξεις με διαφορετικούς ανθρώπους σε διαφορετικό χρόνο και συνθήκες. Η κάθε μια από αυτές τις εννέα ιστορίες, παρατηρεί και διαπιστώνει το πώς με κάθε "you" ξετυλίγεται και ένα διαφορετικό "me", ένας άλλος εαυτός που χειρίζεται τις καθοριστικές αλλαγές ζωής και τον έρωτα ή τον αποχωρισμό με πολύ διαφορετικό τρόπο στο πέρασμα του χρόνου.

To "you.me." ηχογραφήθηκε στην Αθήνα, στο Lotus studios με παραγωγό τον Βασίλη Ντοκάκη. Οι ενορχηστρώσεις είναι πλούσιες σε synthesisers, νοσταλγικά μπάσα και ξεχωριστούς ήχους πιάνου, ενώ η φωνή εξιστορεί σε πρώτο πλάνο. Κάποια κομμάτια χτίζονται πάνω σε εξωστρεφή beats ενώ άλλα είναι low-key και ακουστικά.