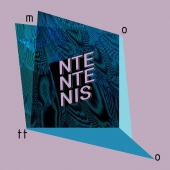 Ntentenis
Motto
Label: Veego Records
Genre: Electro / Electro-Rock
4 TRACK E.P. OF DISCO/NEW WAVE/ ELECTRONIC WITH MORE THAN 26 MINUTES OF DANCE MUSIC WITH CATCHY GREEK LYRICS.

■ MUSIC, LYRICS, SYNTHS, PROGRAMMING, SOUND DESIGN BY NTENTENIS
■ ADDITIONAL PROGRAMMING BY BHUKHURAH (A.K.A. CHRIS BEKIRIS)
■ PRODUCED BY BHUKHURAH AND NIKOS TRIANTAFYLLOU
■ MIXED BY NIKOS TRIANTAFYLLOU AND BHUKHURAH AT SONIC PLAYGROUND
■ MASTERED BY IRAKLIS VLACHAKIS
■ ADDITIONAL LYRICS ON PLUMIDISCO BY COLORGRAPHS
■ LYRICS ON POLYBAG BY NTENTENIS & METAMAN
■ VOCALS ON PLUMIDISCO BY COLORGRAPHS AND VASSIŁINA
■ VOCALS ON POLYBAG BY COLORGRAPHS
■ BASS ON POLYBAG BY KONSTANTINOS VAVOUSIS
■ SCREAM ON SOUTHWAVE BY KONSTANTINA ATHANASOPOULOU
■ ARTWORK BY SAKI MAR

Limited edition, 300 copies.