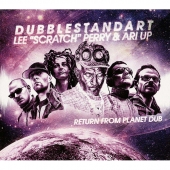 Dubblestandart / Lee Perry Scratch / Ari Up
Return From Planet Dub
Label: Collision
Genre: Freestyle / Nu Jazz / Funk / Afro
Availability
LP €24.99

Dispatched within 5-10 working days
On the planet Dub, Dubblestandart have already left their own crater with ten albums by now.

Founded in the late eighties under the impression of Lee Perry's unique Black Ark productions and Adrian Sherwood's radical mixing maneuvers on On-U-Sound, the proven and sought-after backing band (Ari Up, Lee "Scratch" Perry, Dillinger, Lilian Allen, Top Cat) around Paul Zasky has given Jamaican production techniques their own European face: bass-based, New Wave-informed, on the cutting edge of mixing and adept in the tightrope walk between digital Wumms and analog warmth, wordlessly mediating between patois and Schmäh.

With their eleventh album, they crown their career with a series of sensational collaborations (including Lee "Scratch" Perry, Ari Up and director David Lynch!) and one that is unparalleled in terms of density, richness, depth and weight this season. Recorded in Kingston, the Bronx and in the home studio in Vienna.