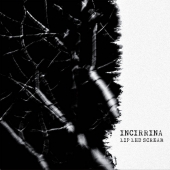 Incirrina
Lip Led Scream
Label: Cold Transmission
Genre: Electro / Electro-Rock
Lip Led Scream is the 2nd studio album by Incirrina .
It features 10 songs which were written during a painful period for all of us - personally and globally speaking - and at the same time in a state of rapture.
Our lips felt tightly closed. We wanted to scream, to turn scream into expression not just as a way out but as a way to understand. To react against but also to respond to a feeling of internal chaos, helplessness and fear of a world collapsing outside.
Solitude, violence, despair, social injustice, biopolitics, but also love, humaneness and coming of age are the main themes of the album.

Music composed and performed by Incirrina
George Katsanos (synthesizers,drum machine, vocals)
Irini Tiniakou (synthesizers,vocals)

Lyrics : Konstantinos Londos
Lyrics for track "My Only Land": Incirrina

Vocal treatments, sound recording and mixing:Dimitris Dimitriadis - Zero Gravity Studios
Mastering:Anestis Psaradakos - Athens Mastering
Photo / Cover Art : Gwgw Galanopoulou

Limited red vinyl.