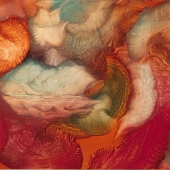 Gaf And The Love Supreme Orchestra
Garden Island
Label: Discrepant
Genre: Jazz / Avant Garde
Availability
LP x2 €29.99

Dispatched within 5-10 working days
For fans of Sun Ra, Alice Coltrane and every single mystic brother and sister carrying the free spiritual jazz torch! Dive DEEP!

Spectacular mystical jazz infused psychedelics from Canary Islands' cult band GAF.

Using a series of different add-ons to their (already obscure) band acronym GAF (Grifa Ambient Factory) such as Love Supreme Arkestra or GAF & La Estrela de la Muerte amongst a few, the Tenerife based band illustrate clearly what mutation or influence they're feeding through (their mind) by the judicious use of these referential add-ons. Rotating around the vision of local lynchpin, Mladen Kurajica aka Bonni, Keroxen label head, festival organizer, producer and musician with numerous projects including helming the GAF outfit. The Love Supreme Arkestra variation here being the more Coltrane leaning (Alice rather than John) and Sun Ra- esque influenced thematic of the 6 piece band. Over a series of 7 huge sounding themes, we can hear twirling saxophones, trumpets, marimbas, modulars and rhythmic sections intertwining like flying spiral snakes over a burning sea of lava.

Recorded live and freely over a completely improvised jam session on a sunny afternoon in the mountainous region of La Esperanza in Tenerife, the band lets rip free of any previous albums particular sound choosing instead to purge into a world of musical liberation by embracing the aforementioned pioneers of the genre whilst unconsciously absorbing in their surroundings - as an additional inspiration for musical freedom.

The result really shines through its 74 mins of mind blowing adventurous music. A journey to the peaks of the Teide Volcano and down the green valleys, into the blue and black volcanic coasts of liberation!