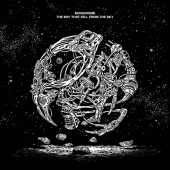 Mononome
The Boy That Fell From The Sky
Label: S!x Music
Genre: Freestyle / Nu Jazz / Funk / Afro
While the planet was put on hold and touring came to a halt, distancing became a standard that played a crucial role in the writing of the album. Lack of traveling and digging for records became a problem turned into a challenge. It felt like the perfect time to stir away from sampling for a while. "The Boy That Fell From The Sky" was crafted using no samples and had Mononome go back to getting acquainted with instrument playing while also having contributions from virtuoso cellist Isabelle Bouché and music producer/guitarist Transparent Man.

Shifting towards more of an electronic approach while still maintaining that gritty and nostalgic feel of his signature sound, Mononome spiraled down seclusion, recording what seemed to be more of an experiment as well as a pathway to discovering new musical grounds.

Drawing inspiration from the state our planet has been in these past years regarding social injustice, climate crisis, war, racism and extreme capitalism, the album tells the story of basically any alienated person in today's society where all of the above have entered a state of normalization.

Based around "The Boy" as the main character, the concept places him as a visitor and a first-time observer of all of the inequity humankind has been drowned in, how the system of basic human values is nowadays almost inverted, corrupted and non-functional, and how obsolete living ethically has become, leading him to a decision of going away and choosing never to return again.
White vinyl.