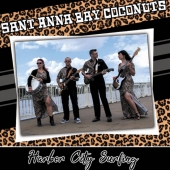 Sant Anna Bay Coconuts
Harbor City Surfing
Label: Surf Cookie
Genre: Rock / Pop
Aloha, come celebrate with us!
The Sant Anna Bay Coconuts are 4 colleagues, friends but most of all an adopted family and they are based in Antwerp, Harbor City, Belgium.
A tropical kiss is what you get from a few ravishing dancing wahines, while you see or hear these rascals playing their vision of instrumental surf music.
With this debut album, they're not only taking you on a trip around the globe, they also visit every beach and wave along the way.
They party hard, they stay up late but most of all, they celebrate!
What do they celebrate you ask? Life as it is, scars included!
Driving your surf van to the beach to try and put on a wetsuit, only to find it shooting away to the other side of the parking spot.
Going full throttle in your hot-rod to the nearest skatepark to finally land that bigspinboardslide you've been dreaming of, but smack your face into the concrete instead.
You get the idea…
This is exactly what made this album happen: surfing, skating, big V-8 engines, a ton of bruises and a shitload of rum.
The order of these things are obvious for surf music lovers.
Ride their waves and go with the flow!