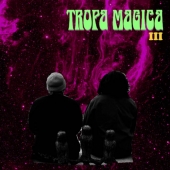 Tropa Magica
Iii
Label: Green Cookie
Genre: Rock / Pop
East LA's, Psychedelic Cumbia Punk outfit Tropa Magica release their third studio album Tropa Magica "III" following up their ambitious sophomore album "Tripiando Al Infinito En Mi Recamara" which got placements on Netflix's Gentefied and Felipe Ezparza's Bad Decisions Comedy Special. Tropa Magica "III" will be co-released internationally on vinyl by the Greecian label "Green Cookie" Records.

During the pandemic Pacheco brothers David and Rene, worked on this album from hundreds of miles apart in different states. David residing in New Mexico emailed Rene tracks and via emails they mixed and mastered this new album. Originally meant to be demos, the brothers decided to release the tracks in their "lo-fi" state in order to remain truthful and reflecting of the times in which it was written.

Unlike previous albums some of these songs first started off as commissions that David wrote for patrons in order to make some extra cash while unable to tour during the pandemic. What results is a Tropa Magica album that has less production but instead caters to its audience and retains a more coherent and unified Tropa sound. The band prepares to tour nationally this year to support the album.
Violet vinyl.