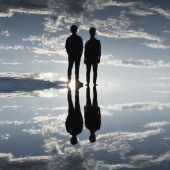 El Ten Eleven
New Years Eve
Label: Joyful Noise
Genre: Post Rock / Avant Rock
Availability
LP + MP3 COUPON €24.99

Dispatched within 5-10 working days
Defying expectations is standard operating procedure for El Ten Eleven. Seriously, who would expect two instrumentalists to create such a large and complex sound? But thanks to inventive arrangements and a masterful use of looping, Kristian Dunn (bass/guitar) and Tim Fogarty (drums) developed a pulsating sound full of atmospheric intensity. They've also crafted an incredibly durable career, and the duo credit the ongoing interest in their debut album as the foundation for that success.

The music of El Ten Eleven has been embraced by fans of many genres - from math rock, to jazz, to lo-fi hip-hop. The duo's sound is sharply evocative in mood and feeling, yet simultaneously abstract and meditative. The combination of these qualities has stimulated the imagination of the group's fans, and gives space for listeners to assign their own value and meaning to the sounds. "I'm aiming for emotional impact when I come up with songs," Dunn explained. "Does it move me? Does it make me feel something? Sometimes it doesn't. Sometimes it's technically interesting but it doesn't make me feel anything. But I don't want music that's interesting. I want music that's emotionally resonate."

Further details their next full-length album, produced by Sonny DiPerri (DIIV, Portugal. The Man) won't be announced until 2022, but the SoCal pair have shared a preview with the release of "New Year's Eve", a song about cautious optimism. "It was written while the pandemic seemed to have a chance of ending and there was lots of political change in the air. But even the most well laid plans for New Year's Eve celebrations often end up being disappointing, thus the metaphor."
Gold vinyl.