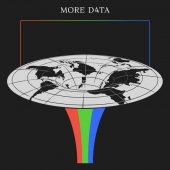 Moderat
More D4ta
Label: Monkeytown
Genre: Electronica / Ambient / Experimental
Availability
Other Formats
MORE D4TA, the group's fourth album, arrives more than six years after its predecessor (2016's III), yet its contents are quintessentially Moderat. Although the trio's hiatus was absolutely real—exhausted after years of touring, Apparat (a.k.a. Sascha Ring) and Modeselektor (a.k.a. Gernot Bronsert and Sebastian Szary) spent two years away from one another, focusing instead on their own respective projects—once they decided to resume working together, the music (eventually) started flowing again.

46 MINUTES, 33 SECONDS

It wasn't an easy process. It's never been easy for Moderat, an outfit who tellingly titled their debut EP Auf Kosten Der Gesundheit (translation: At the Cost of Health) and then needed seven years to put together a follow-up. Back in those days, the group's members were essentially remixing each other, but over time, they've gradually developed into a proper band, writing together and developing a workflow that's totally distinct from their other projects. (In a band where all three members are artists, producers and mixing engineers, striking that sort of creative balance is trickier than it might seem.)

Limited deluxe edition. Die-cut gatefold cover.