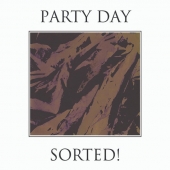 Party Day
Sorted
Label: Optic Nerve
Genre: 80s Wave / Rock / Pop / Punk
Availability
LP x2 €36.99

Dispatched within 5-10 working days
Double vinyl that includes their critically acclaimed and highly sought after debut album 'Glasshouse' from 1985 and 1986 follow up 'Simplicity'. Presented in a gatefold sleeve adorned with the artwork from the Glasshouse EP, which features in the Prints & Drawings collection at the Victoria & Albert Museum.

With printed inner sleeves and a download code for all 31 tracks on the double CD. Including all tracks from the singles and EP's plus unreleased recordings
Pressed on colour vinyl. Disc 1 is Purple. Disc 2 is Gold.

FIRST TIME ON CD

31 track Double CD of all of their vinyl releases plus unreleased recordings. includes their critically acclaimed and highly sought after debut album 'Glasshouse' from 1985 and the 1986 follow up 'Simplicity'

Formed in Barnsley in 1981. Party Day, with their bass led rhythms and sharp powerful drums gigged extensively and released their debut single 'Row The Boat Ashore' in 1983.
Their brand of Post-Punk Indie Rock with Gothic overtones soon got the attention of DJ John Peel and sold out almost immediately.

The follow up single 'Spider' from 1984 again received extensive airplay from John Peel and received rave reviews from the national music press. "Mouthy pellets of malevolence" NME "Excellent punk junk howl" Sounds.

Their self released debut album 'Glasshouse' was released in 1985 to glowing reviews and has gained popularity over the years. Now very collectable, it exchanges hands for big money on the second hand market.

The Glasshouse EP followed later in 85 heralding a more commercial approach and widening appeal.

Their second album 'Simplicity' was released in 1986

"Proving that they've grasped more than an inspirational nettle, the recurrent throb finds their trousers igniting during the quite punctilious rawk of the title track, the urgent prodding of 'Career', which reminded me uncomfortably of early Killing Joke and the attractive, though slightly over-wrought black sheep, 'Glorious Days', which could have brought a lump to Mario Lanza's trousers."
Party Day Split in 1987. Reissued for the first time.