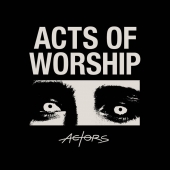 Actors
Acts Of Worship
Label: Artoffact
Genre: Electro / Electro-Rock
Availability
LP €24.99

Dispatched within 5-10 working days
ACTORS' 2018 album, It Will Come to You, released on Artoffact, put the band's moody, anthemic style on the map, earning these words from Post-Punk.com: "Vancouver's brilliant post-punk and
new-wave quartet ACTORS continue their flair for sonic cinematics...
The atmosphere quivers with singer Jason Corbett's crooning reverb augmented by shivering guitars and stark synths." Three years later, the follow-up, Acts of Worship, is an album ofdriving beats, massive hooks, and dramatic atmospheres – equally melancholy and electrifying, it plays like the soundtrack to an imaginary Michael Mann film.